What is the IoT? Everything you need to know
What is the IoT?
The increasing prevalence of technology in our everyday lives has meant that the world around us is also getting smarter too.,
Digital devices are not just in our pockets or our offices, but increasingly in our homes, buildings, and many places and cities. Taking a key role in helping collect, analyse and monitor data and information about their surroundings, these devices are able to communicate with each other through a massive intertwined network known as the 'Internet of Things'.
Usually shortened to the IoT, this collective allows devices to connect and talk to each other and also to us, delivering reams of data and in-depth analysis that will hopefully increase the world around us. 
Still largely a work in progress, the IoT is set to revolutionise how we live our lives, with experts tipping it to have the biggest technological impact since cloud computing.
Many consumers are already enjoying the benefits of the IoT, as popular connected home products such as the Amazon Echo smart speaker and the Nest thermostat from Google becoming common sights in buildings around the world.
But the wider world can also benefit from the IoT, with businesses being able to streamline previously complex and data-hungry processes through improved automation, freeing up employees for other tasks. 
Public sector organisations such as hospitals can also use sensors to monitor patients more effectively, and local governments can monitor pollution, traffic levels, weather data, and much much more.
The IoT is growing fast, and is set to affect more and more areas of our lives in the years to come, resulting in a smart world that previously was only imaginable in science fiction.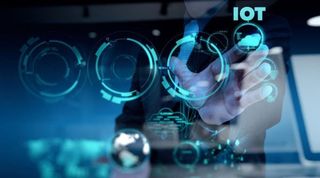 IoT – the latest news and views
29/10 – The use of AI and ML in protecting the IoT – The emergence of AI in consumer security…
28/10 – Microsoft looks to secure the IoT with Azure Sphere – Software giant will secure the IoT with new hardware and software…
09/10 – IoT devices could be asbestos of the future – What seems like a great idea now could come back to haunt us…
07/10 – BlackBerry…


www.techradar.com