This is the smart home kit you've been searching for
Sponsored by RACV
Almost everyone is impressed by the futuristic applications offered by today's smart home tech. However, the potential difficulty in setting up (and affording) your own smart home up can make it seem like something best left to either the super rich or super geeky. In 2019, though, that no longer has to be the case.
Most people will know the RACV as one of Victoria's top automobile clubs. However, it's also put together a kit offering a compelling set of devices that can turn any home into a smart one. The RACV Smart Home Starter Kit collects together six SmartThings devices and provides everything you need to simply and quickly set up a smart home – and it costs just $249. Whether you want to monitor your premises or make life easier (or more fun!) this is the smart home set you've been searching for.
A solid foundation
The SmartThings Wifi hub is the core upon which the kit revolves. This simply plugs into your wireless router and connects all the other sensors together. It will monitor premises up to 140 square metres but if you have a bigger area, simply adding more hubs will extend the network. The kit includes three motion detectors alongside two Multipurpose sensors, which can monitor when doors and windows are opened as well as local temperature and even vibrations.
Everything in the kit is packaged in a way that makes setup simple and intuitive, with each component coming individually wrapped and with its own quick-start guide. It generally takes just a few minutes to connect each component, however if you'd rather outsource the job – and live in the metropolitan Melbourne area – it costs just $79 to have an RACV-approved expert install it all for you.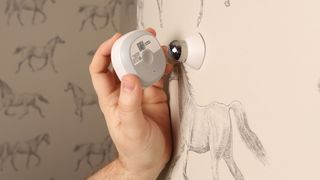 www.techradar.com