iPhone 11 Pro vs Samsung Galaxy S10
Apple unveiled the iPhone 11 Pro at its September event (alongside the iPhone 11 and iPhone 11 Pro Max), and the phone is a beauty – even if, new cameras aside, little has changed on the outside since the release of the iPhone X in 2017. 
But it's undeniably the best iOS phone yet – so how does it stack up to one of the best Android phones, the Samsung Galaxy S10?
Both the iPhone 11 Pro and Samsung Galaxy S10 are incremental upgrades on their predecessors, though that still makes them some of the best phones available. In features and price, they're certainly two of the top flagship phones of 2019. Even after the Samsung Galaxy Note 10 has come out, the S10 is an all-around powerhouse that doesn't need an S Pen to stand out.
But what sets them apart? We've broken down a comparison into key categories to see how these top devices measure up. Wondering which has the better display? Curious which packs a better suite of cameras? We've got you covered.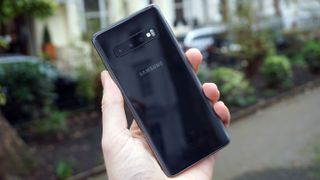 iPhone 11 Pro vs Samsung Galaxy S10 design
As far as design, both phones look much like their predecessors. The Samsung Galaxy S10's 'Infinity Edge' bent display and camera arrangement are one style, while the iPhone 11 Pro is a round-edged rectangle. Samsung's 6.1-inch screen makes it slightly larger than the 5.8-inch-display'd iPhone 11 Pro, if screen size matters to you.
Alright, there's really only one comparison here: that camera blister. The Galaxy S10 opted to stretch its three…


www.techradar.com