Best website defacement monitoring service of 2019
Best defacement monitoring service
In July 2001, the Code Red worm infected over 359,000 hosts which were running a vulnerable implementation of Windows NT. Visitors to compromised websites were greeted with the message: "HELLO! Welcome to http://www.worm.com! Hacked By Chinese!"
Code Red and the phrase "Hacked by Chinese!" have long since passed into internet legend but the danger of website defacement is clear and present. Hackers can target your site at any time, so unless you are viewing a page as its been changed, it's hard to respond quickly.
In this guide, you'll discover an elegant solution to the issue of website defacement in the form of the very best security tools on the web today. These automate the task of regularly checking your domains for anomalies and make sure to notify you if any unauthorised changes are detected.
There are options to match all budgets from free services suitable for the occasional blogger to premium platforms for large business owners.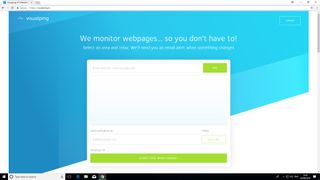 A simple free tool for detecting superficial changes
Easy setup
Mobile version available
Only detects visual changes
Visualping is a deceptively simple tool which offers powerful protection against website defacement. Users of the website or iOS/Android mobile apps need only enter a URL and their email address to receive regular updates of any changes made.  
The tool works by making regular snapshots of the page in question then comparing these on an hourly, daily or weekly basis. It can also be customized to trigger an alert for tiny, medium or significant changes.
Visualping is not designed specifically for website defacement. As the developers' website mentions, it will work equally well for checking on the release on concert tickets or a new product launch. However its ability to display superposed 'images' as well as the fact you can control the frequency Visualping checks for changes means it's certainly fit for purpose.
The basic free version of Visualping allows you up to 2 free checks per day. Costs vary after this on a very reasonable sliding scale depending on the number of…


www.techradar.com