Best UPS of 2019: the best uninterruptible power supplies
The best UPS (uninterruptible power supply) is an essential purchase for any business that relies on PCs, servers and other electronics being on 24 hours a day, seven days a week.
For many businesses, if there's a power cut – even a very brief one – the loss of power can be catastrophic. Servers and files could become unreachable – or even worse, corrupted – by a sudden shutdown. The best UPS can prevent disaster striking when the power is cut, by seamlessly switching to battery power to continue to power your devices until either the main power is restored, or you're able to safely shut down your device.
However, there are certain important things you should consider when looking to buy the best UPS for your business. For a start, you'll want something that can provide enough power for your devices to keep running until the power is back on. If that's not possible, they should at least offer enough power for you to reach them to safely initiate the correct shutdown procedure to prevent data loss.
The UPS devices we include in this guide cover a wide range of use cases, from small UPS devices for homes that can keep a router and PC running, to large and powerful UPS devices for enterprise uses. Because of this, we have listed these best UPS devices in no particular order.
Best UPS 2019 at a glance:
CyberPower CP1500EPFCLCD
APC Back-UPS ES – BE700G
APC BE600M1 Back-UPS 600VA
Eaton 9SX 5000i RT3U
Vertiv Liebert PSI 1500VA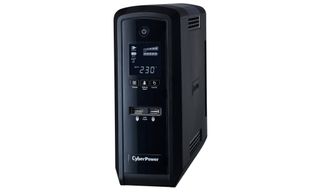 CyberPower CP1500EPFCLCD


www.techradar.com