Best PC for photo editing 2019: top desktops for Photoshop
Welcome to our pick of the best PCs for photo editing in 2019. The desktop PCs on this page have been carefully picked for professional photographers (or a keen hobbyists) that are looking for powerful machines that can handle Photoshop and other photo editing applications.
The best PCs for photo editing offer enough power to edit high resolution photos, which means they'll usually come with a dedicated graphics card. If you're only working with still images (and not using the PC for video editing as well), then you won't need a monster rig, but you'll certainly be after something that comes with a mid-range or higher graphics card.
Having enough RAM is also an important consideration, especially if you want to have a number of programs and images open at once. We'd recommend a minimum of 8GB for the best PC for photo editing.
You'll also want a high capacity hard drive for storing your photos on, we'd recommend 1TB or higher.
If you'd like something a bit more portable, then make sure you check out our pick of the best laptops for photographers and photo editing.
Best PC for photo editing 2019 at a glance:
Apple Mac mini 2018
Lenovo ThinkCentre M900
Microsoft Surface Studio 2
Apple iMac Pro
Lenovo Yoga A940
iMac (27-inch, 2019)
HP Pavilion Wave
Intel Hades Canyon NUC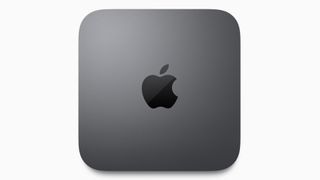 1. Apple Mac mini 2018
A brilliant mini PC for photo editing
CPU: Intel Core i3 – i7 | Graphics: Intel UHD Graphics 630 | RAM: Up to 64GB | Storage: Up to 2TB SSD | Connectivity: Gigabit Ethernet, 802.11ac Wi-Fi | Dimensions (W x D x H): 19.7 x 19.7 x 3.6cm
Same small design
Four USB-C Thunderbolt 3 ports
Integrated graphics aren't all that
The new Mac mini was a long time coming, but it was well worth the wait, as Apple has packed it with some brilliant modern components, including the latest 6-core processors from Intel, along with support for up to 64GB RAM and loads of storage as well, all in that small and stylish body we've come to love. It's perfectly powerful enough for photo editing, and small enough for photographers to carry around with them. The only disappointment is that it does not come with…


www.techradar.com