Best mesh WiFi routers 2019: the best wireless mesh routers for large homes
If you haven't considered getting one of the best mesh Wi-Fi routers 2019 has to offer for your home or office, this list will certainly change your mind. Unlike traditional wireless routers, which are typically single receivers situated only in one room while broadcasting Wi-Fi throughout the rest of your house or apartment, the best mesh Wi-Fi routers are made up of several units.
These units can be strategically placed around your home or office to guarantee a strong and consistent Wi-Fi signal throughout your whole space. Simply by placing several nodes in key areas of your home, you will get you a solid, unified Wi-Fi network with the best mesh Wi-Fi routers, no matter where you are in that whole space.
That's unlike how Wi-Fi extenders work, which only take the original Wi-Fi signal from the best wireless routers and repeat it to extend the original router's range. This approach requires a separate SSID for the extender, as you're essentially just creating a second network, and can be a pain since your device won't automatically switch to the different network. In addition, filling your home with several Wi-Fi networks can negatively impact the network's performance.
Utilizing the best mesh Wi-Fi routers to provide solid coverage throughout your space, therefore, is better. And, these routers can be easy to set up. Simply connect the main unit to your internet connection, press a few buttons, and pair up the other units, resulting in one large – not to mention, fast – Wi-Fi network.
What you need to know about Black Friday 2019
Black Friday and Cyber Monday are right around the corner, and we fully expect to see some excellent mesh router deals. This is thanks to the fact that these nifty little routers and satellites are downright trendy these days. So, be sure to keep an eye on our price comparison tool, and we'll help you find a deal on that stylish router you have your eyes on.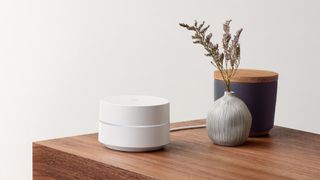 1. Google Wifi
The best Wi-Fi Mesh system from the future
Speed: 802.11ac…


www.techradar.com