Best computers 2019: the best PCs you can buy
The best PCs pack more power now than ever before. They've evolved to the point of packing eight-core processors and super high-end graphics cards, some of which offer real time ray tracing – things that were not possible only a few years back. Staying on the cutting edge in 2019 means getting one of the best PCs included on this list, even if most of what you'll do is browse Facebook and surf the internet.
The good news is, the best PCs available right now are also more affordable than ever, which means that regardless of what your budget might be, you'll find one that's not ideal for you and your needs, but can also keep you on the cutting edge. You can pick up a solid PC or even an all-in-one desktop for around $500 (about £390, AU$715), for example. 
In addition, many of the best PCs will last you a lifetime as they are upgradeable. It's easy to keep them up to date by fitting in new and improved PC components, like fast SSDs, more RAM and possibly even the best graphics card.
With so many options to choose from, deciding on the best PC for you, your needs and your budget can get confusing. So we gathered all the best computers on the market, paying close attention to those that hit that sweet spot between price and performance.
Here are our top picks for the best PCs 2019 has on offer. Peruse the list and pick out what you like.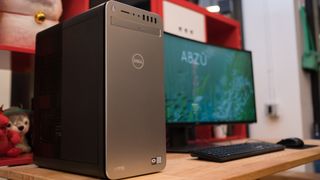 Best PC: Dell XPS Tower Special Edition
This mainstream machine is a gaming PC at heart
CPU: Intel Core i5 – Core i9 | Graphics: Nvidia GeForce GTX 1050 Ti – 1080 | RAM: 8GB –64GB
Compact, minimalist design
Full online customer support
Starting memory isn't ideal for VR
Lower graphical performance compared to rivals
The Dell XPS Tower looks unremarkable, like that PC your parents used to have hidden away underneath the desk when you were a kid. However, its no-nonsense chassis hides quite a selection of exciting internals. One of the best PCs right now, the Dell XPS Tower is packed with up to an RTX 2070 graphics card, a 9th-generation Intel…


www.techradar.com