Apple AirPods (2019) vs Samsung Galaxy Buds: which is best for you?
When it comes to smartphones, chances are you fall into one of two camps: fans of the Apple iPhone's iOS operating system or those dedicated to the Android OS used by Samsung (among others).
However, in the world of true wireless earbuds, these distinctions aren't quite as clear, and you may well be considering buying a pair of Samsung Galaxy Buds, even if you have an iPhone – and vice versa. 
The release of the Apple AirPods (2019) earlier this year, which come with an optional wireless charging case, makes it even more difficult to choose which is the best true wireless earbud model for you – and that's without even considering the newly launched Apple AirPods Pro. 
If you're not sure how to choose between the Apple AirPods (2019) and the Samsung Galaxy Buds, you've come to the right place; we've examined the pros and cons of both true wireless earbuds to help you decide which ones will suit you best.
What you need to know about Black Friday 2019
It's no secret that Black Friday and Cyber Monday are some of the best times to find fantastic true wireless headphone deals. Usually you'll find that mid-range brands like Jabra get the biggest discounts at retailers like Amazon, but it's worth bearing in mind that Sony, Apple, and Beats have all recently released new models – and that means older models could be discounted.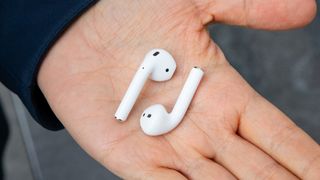 Apple AirPods (2019) vs Samsung Galaxy Buds: overview
There's no denying that the original Apple AirPods paved the way for true wireless earbuds to become mainstream, and despite being released in 2016, they were still among the best true wireless buds you could buy in 2019 – that is, until the new AirPods (2019) came along. 
Apple says that the updated buds offer "faster connect times, more talk time, and the convenience of hands-free Siri." It's debatable how much has actually changed since the originals were released, and they certainly aren't the rumored AirPods 2 we were hoping for – we're not expected them to be released until at least 2020 now. 
The Samsung Galaxy Buds on…


www.techradar.com