AirPods 3: everything we know so far
The Apple AirPods 3 (or AirPods Pro if recent rumors are anything to go by) so far remain elusive in 2019, and our ears, in desperate need of noise-canceling true wireless earbuds, hang in wait.
Admittedly, the new AirPods (2019) do have some cool new features, like the ability to charge wirelessly. Still, they aren't quite the all-out AirPods 3 reimagining we were hoping for, and they don't beat rivals like the Sony WF-1000XM3 Wireless Earbuds and the Cambridge Audio Melomania 1s in terms of noise-cancelation and audio quality. 
The good news is that the next-generation of Apple AirPods could be right around the corner. We've heard rumors about noise-canceling and even waterproof Apple earbuds for nearly a year at this point, and now some analysts are saying that they'll arrive by the end of the year or, at the very latest, early on in 2020.
Noise-canceling AirPods could launch before October is out. A new report claims that an upgraded AirPods model – called the AirPods Pro, in the manner of the iPhone 11 Pro – may be about to release to market. We've seen hints about a new charging case and also some new colors.
An incoming AirPods Pro release was cited in a report by China Economic Daily, which said the new AirPods were expected to launch before the end of October, meaning the claim could be proved (or dismissed) very soon.
Most recently, the design of the so-called AirPods Pro might have just been leaked by phone accessories manufacturer ESR. Spotted by MacRumors, a listing on the site for an 'AirPods Pro Cover' shows a wider carrying case than we've seen for previous AirPod models.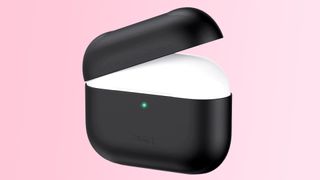 One of the best sources of Apple AirPods 3 rumors comes from a 2018 report from TF International Securities' analyst Ming-Chi Kuo. He said that we could be getting two more headphones before 2020 – an updated version of the original Apple AirPods (check) and the brand new AirPods 3. 
Apple's WWDC 2019 keynote took place on June 3, but it was too soon for Cook and co. to announce the new AirPods 3 then – after all, the updated AirPods (2019)…


www.techradar.com